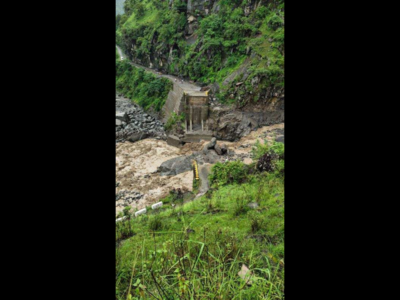 PITHORAGARH: Heavy rains in Pithoragarh have caused more than 50 villages along the Nepal and China border along Uttarakhand to be completely cut off from road access and from Dharchula, the tehsil headquarters.
The rains also washed away a 48-metre-long concrete bridge at Kulagad on Tanakpur-Tawaghat highway early on Thursday, Dharchula sub-divisional magistrate (SDM) AK Shukla said. The Border Roads Organisation (BRO) has put logs to cross the runlet, he added. Kulagad is around 10 km away from Dharchula. The tehsil administration is in the process of getting a Bailey bridge constructed to resume movement, Shukla further said.
Due ot the bridge collapse, three higher Himalayan valleys – Darma, Byas and Chaudas – have been cut off from Dharchula, according to Bhupendra Singh Mahar, the district disaster management officer, Pithoragarh.
A 50m road was washed away in 2013 at the same site and later disaster management department and BRO built a bridge to connect the road.
Some villagers said that a possible cloud burst at Nagne Bugyal, the runlet source, may be the cause of mud and boulders floating in Kulagad.
Scores of villagers and vehicles are stuck on the other side of the road and no vehicular movement seemed possible till the next few days, Rakesh Tiwari, a local resident, said.