former king Gyanendra Shah made a rare public appearance earlier this year in the Himalayan nation's Jhapa district to launch a movement to change the country's secular constitution and reinstate its identity as a Hindu kingdom.
Thousands of Nepalis gathered at the February event to back the cause, with several marches occurring across the country since.
Last month, just days before Nepal's Prime Minister Pushpa Kamal Dahal, more popularly known as Prachanda, flew to New Delhi, key leaders of his Nepal Communist Party approached him with an unlikely memorandum – to hold a public referendum on whether Nepal must remain secular or return to being a Hindu state.
Within days, Dahal had made an unexpected stopover in the central Indian temple town of Ujjain and donned saffron-coloured Hindu robes, replete with sandalwood smeared on his forehead, before conducting temple ceremonies.
Many within Nepal were flummoxed by the sight of a lifelong communist and avowed secularist donning religious robes in Nepal's parliament. The image caused such a stir that Dahal had to assure parliamentarians that he remained secular.
These might seem disparate events, but Nepal's politics is witnessing a silent change with the emergence of Hindu nationalism and growing calls for the country to become a Hindu rashtra (nation).
Mounting evidence suggests that some of this might have to do with Indian Prime Minister Narendra Modi's Hindu-nationalist Bharatiya Janata Party (BJP).
The US State Department's latest International Religious Freedom report quoted Nepali civil society activists saying that the demand for a Hindu state was possibly being funded by Hindu-nationalist outfits with links to the BJP.
This Week in Asia repeatedly contacted Vijay Chauthaiwale, the BJP's foreign affairs chief, with queries for this story but did not receive a response.
India's Ministry of External Affairs spokesperson Arindam Bagchi also did not respond to a request for comment.
The US State Department report drew criticism from Nepal's pro-monarchy Rashtriya Prajatantra Party, calling it "baseless … reflecting a one-sided bias", and the Dahal government, which reportedly sent a diplomatic note to the US embassy in Kathmandu expressing its disagreement – but it was barely surprising for many watchers of the region.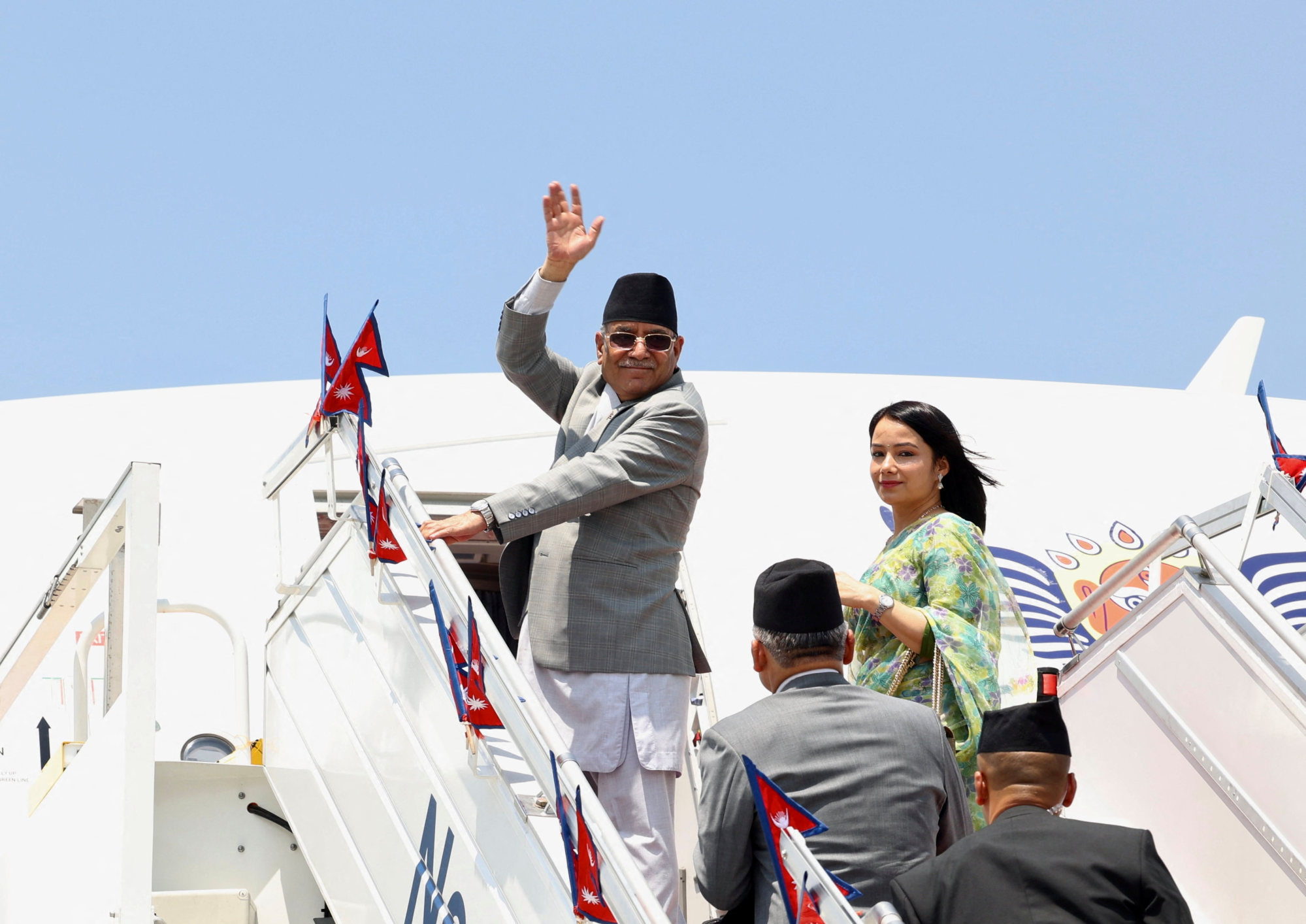 Days before Prime Minister Pushpa Kamal Dahal flew to Delhi, key leaders of his Nepal Communist Party asked that he hold a referendum on whether Nepal should remain secular. Photo: Prime Minister's Office of Nepal Handout via Reuters
Old demand reinvigorated
Between 1962 and 2006, when the monarchy was overthrown, Nepal was a Hindu kingdom and the only Hindu country in the world. Some 81.3 per cent of Nepal's population identifies as Hindu, while the remaining is a mix of Buddhists, Muslims and others. The 2007 interim constitution of Nepal declared it a secular country, and the monarchy was abolished soon after.
But the demand for Nepal to return to its pre-2006 status has been rising.
Kanak Mani Dixit, founding editor of the Himal Southasia magazine, said the demand was being driven by "many, particularly among the fallen elite, who are leaning towards Hindutva as a way to gain back lost positions", pointing to former King Gyanendra Shah as an example, and referring to the ideology that underpins Hindu nationalism.
"It [demand for a Hindu state] is a conservative agenda by those who feel they have lost political power under the new constitution," Dixit said. "Nepal can certainly not be a Hindu state when nearly 20 per cent of the population do not identify as Hindus."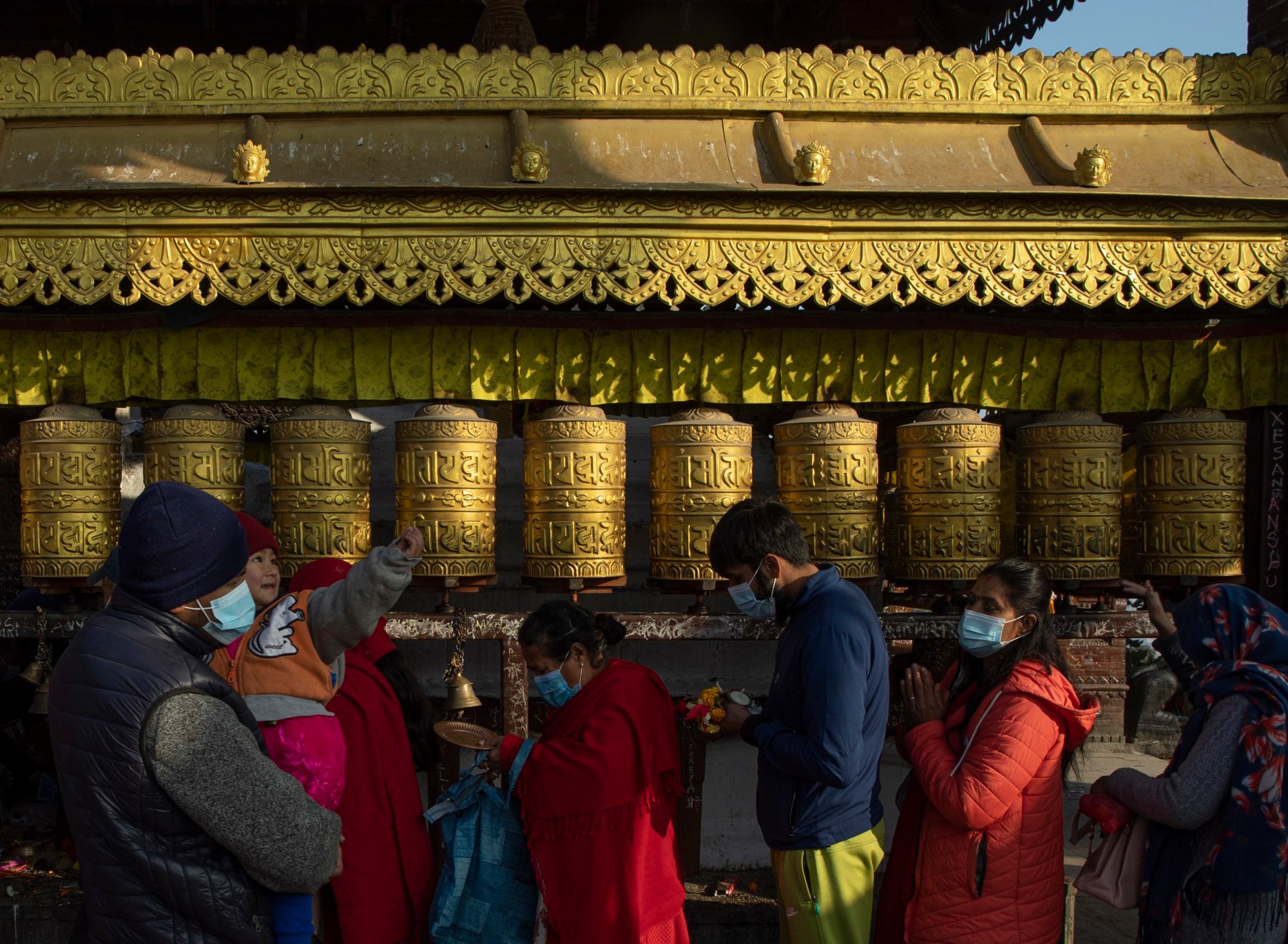 People line up to worship Saraswati, the Hindu goddess of knowledge, wisdom and learning, during a festival in Kathmandu. Some 81.3 per cent of Nepal's population identifies as Hindu. Photo: EPA-EFE
Analyst Santosh Sharma Poudel, head of the Centre for Strategic Affairs at the Nepal Institute for Policy Research, a Kathmandu-based think tank, said the demand for making Nepal a Hindu state was intertwined with restoring the monarchy.
Poudel said Nepal's transition to a democracy over the past 16 years had been marked by many political exhortations, which had as yet failed to materialise.
"Political parties have not been able to deliver and things are, possibly, worse than when Nepal was a monarchy. Hence, there is frustration among people and a rise in people demanding a Hindu monarchy," he said.
Poudel added an increase in the number of Christians in the country has also worried some Hindus.
The latest census data showed Nepal's Hindu population fell by 0.11 per cent while the population following Christianity grew by 0.36 per cent, even though it was still only 1.76 per cent of the population.
"Many Hindus are worried about the activity of Christian missionaries in expanding the religion," Poudel said.
The India factor
In Delhi, the BJP and its ideological affiliates, which prioritise Hindu interests, have made no qualms about their desire to see Nepal become a Hindu state again.
India's current Defence Minister Rajnath Singh, who was BJP's chief in 2006, was clear on his party's stance.
"The BJP would not appreciate a situation where Nepal loses its true identity and buckles under Maoist pressure," he was reported to have said, referring to the political party that Prachanda leads. Singh, on a visit to Kathmandu in 2010, had said he would "be happy when Nepal is a Hindu state again".
Nepal's political class is not in favour of the Hindu state, but they are being forced and groomed through incentives and pressure tacticsSD Muni, Jawaharlal Nehru University
In 2015, then-BJP parliamentarian and now senior leader and chief minister of Uttar Pradesh state, Yogi Adityanath, wrote to Nepal's prime minister at the time, Sushil Koirala, asking him to declare Nepal a "Hindu rashtra" and seeking a ban on religious conversions and cow slaughter.
Ties between Nepal's monarchy and the Rashtriya Swayamsevak Sangh (RSS) – the Hindu nationalist outfit that serves as the ideological fountainhead for Modi's BJP – went back a long time, said SD Muni, professor emeritus at India's Jawaharlal Nehru University's School of International Studies.
"It is an ongoing relationship, but the RSS has expedited it and made it more institutionalised under the tenure of Modi's government," he said.
"All previous Indian prime ministers spoke of the cultural ties that Nepal and India share," Muni said, "but the politicisation of Hinduism and the politicisation of religion have been the monopoly of the BJP, largely because of the RSS' influence."
"In the past, India's non-BJP governments had nothing to do with Hinduism when it came to their Nepal policy. Hinduism has become the Indian government's agenda in Nepal ever since Modi came to power."
The BJP and its affiliates have also become more active in Nepal. In November 2021, BJP spokesman Bizay Sonkar Shashtri, on a visit to Nepal, said the country "is, was and will always remain a Hindu nation". Indian Hindu nationalist groups like the Hindu Janjagruti Samiti have also been campaigning online for Nepal to become a Hindu state again.
Nepal's political class, except the liberal Rastriya Prajatantra Party, has not come out in support of the demand. But this is slowly changing. Earlier this year, Shashank Koirala, the general secretary of the Nepali Congress – which has repeatedly said it did not support becoming a Hindu state – demanded a public referendum to decide on the country's secular constitution.
Dahal's temple visit on his maiden trip to India was also an attempt to assuage the growing constituency of Hindu voters in Nepal, observers said.
Muni said these slow, political changes in Nepal's politics were a result of the growing influence of the Hindu nationalist groups backed by the BJP and the RSS.
"Nepal's political class is not in favour of the Hindu state, but they are being forced and groomed, through incentives and pressure tactics, to back the Hindu state, just like the US report mentions," he said