India and Nepal signed a series of trade deals last week, but that may not be enough to smooth bilateral ties amid a border dispute and growing anti-India sentiment within the landlocked Himalayan country, analysts have said.
The South Asian neighbours sealed a number of projects – built with Indian aid – during Nepali Prime Minister Pushpa Kumar Dahal's meeting with his Indian counterpart Narendra Modi, including a 17.4km cross-border railway line connecting Kurthal and Bijalpura.
New Delhi also approved a trilateral power transaction, whereby Nepal will be able to export 40 megawatts of power to Bangladesh via India.
While Delhi's approach of providing economic aid was one way to boost ties following years of increasing anti-India sentiment, both sides sidestepped discussions on thorny issues. Analysts said Dahal's visit did not address many of Nepal's concerns, despite the prime minister having promised it would be a "historic" trip.
"Nepal's priorities were quick implementation of previously agreed projects and agreements, settlement of the border dispute at Kalapani and the Indian help for full operationalisation of the Bhairahawa International Airport," said Nishchal Pandey, director of the Kathmandu-based Centre for South Asian Studies.
"However, the visit has scuttled these primary concerns and dwelt on the peripheral issues more important to India."
The two countries have been disputing control over a region called Kalapani, since the 1816 Treaty of Sugauli between Nepal and British India which agreed that the Kali river would form Nepal's western boundary. Neither side has been able to agree on the origin of the river, and its location – at a trijunction between China, India and Nepal – complicates the issue.
While both leaders mentioned the dispute during their talks, there was no sign of a resolution. After the visit, Dahal reportedly insisted in the Nepali parliament that he had told Modi "ties between Nepal and India would not return to normal" until the border dispute was resolved.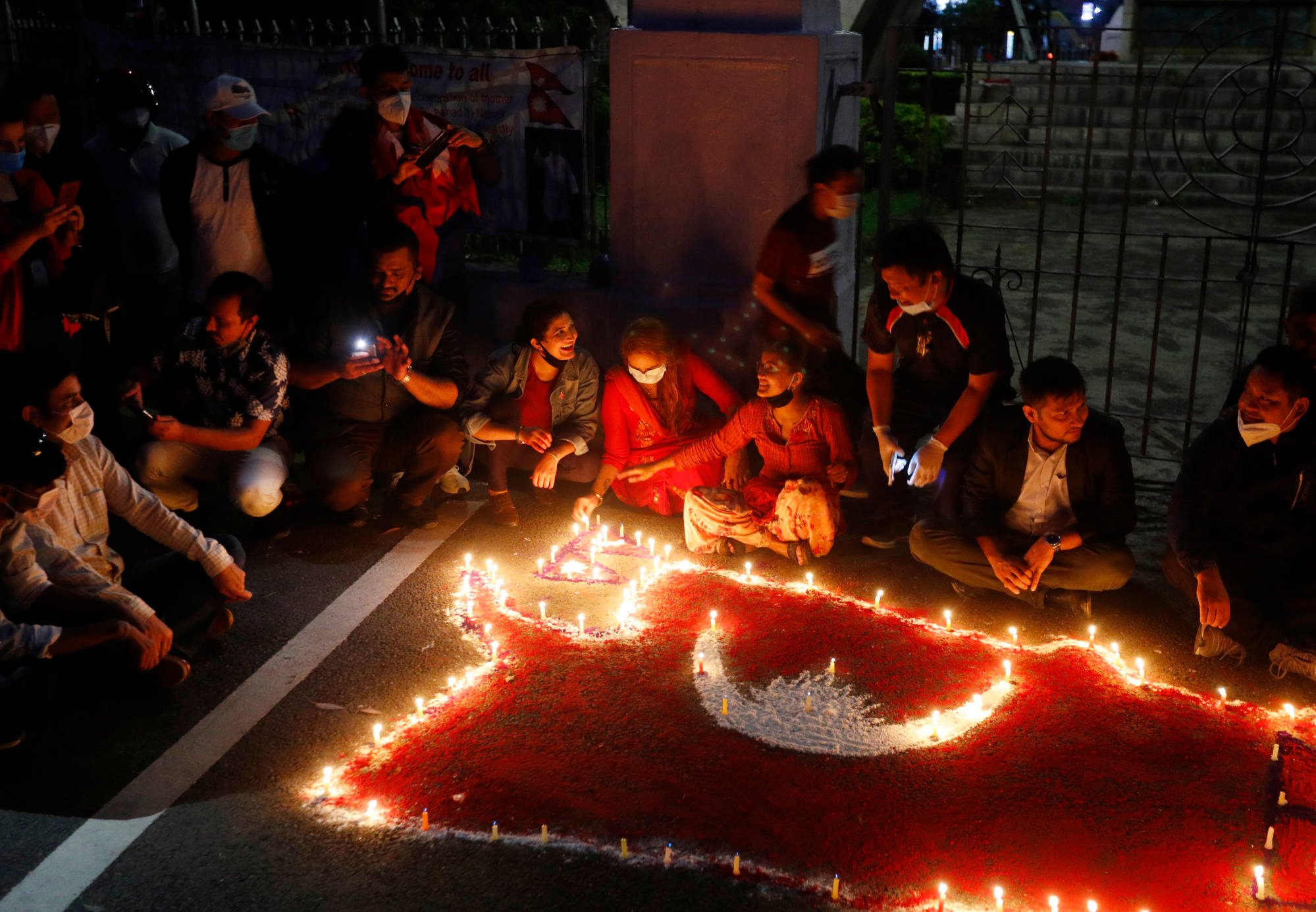 People light candles on an outline of the new map of Nepal drawn on a road as they celebrate the approval of the political map to include territory claimed by both India and Nepal, in Kathmandu, Nepal, in June 2020. Photo: AP
Another Kathmandu-based analyst, who did not want to be named, said opposition parties had slammed Dahal's visit as "underwhelming", with former prime minister KP Sharma Oli saying Dahal had "failed to speak up to India". The analyst noted, however, that the trade deals were a boost to Nepal.
EVERY MONDAY
By submitting, you consent to receiving marketing emails from SCMP. If you don't want these, tick here
By registering, you agree to our T&C and Privacy Policy
That sentiment was shared by Sangeeta Thapliyal, a professor at the School of International Studies in the Jawaharlal Nehru University's Centre for Inner Asian Studies, who said the visit managed to deliver tangible goals for both countries.
"Both countries have emphasised on infrastructure and transport linkages that will further enhance cross border connectivity," she said. "[The projects] will consolidate moves towards sub-regional economic development and economic interdependence."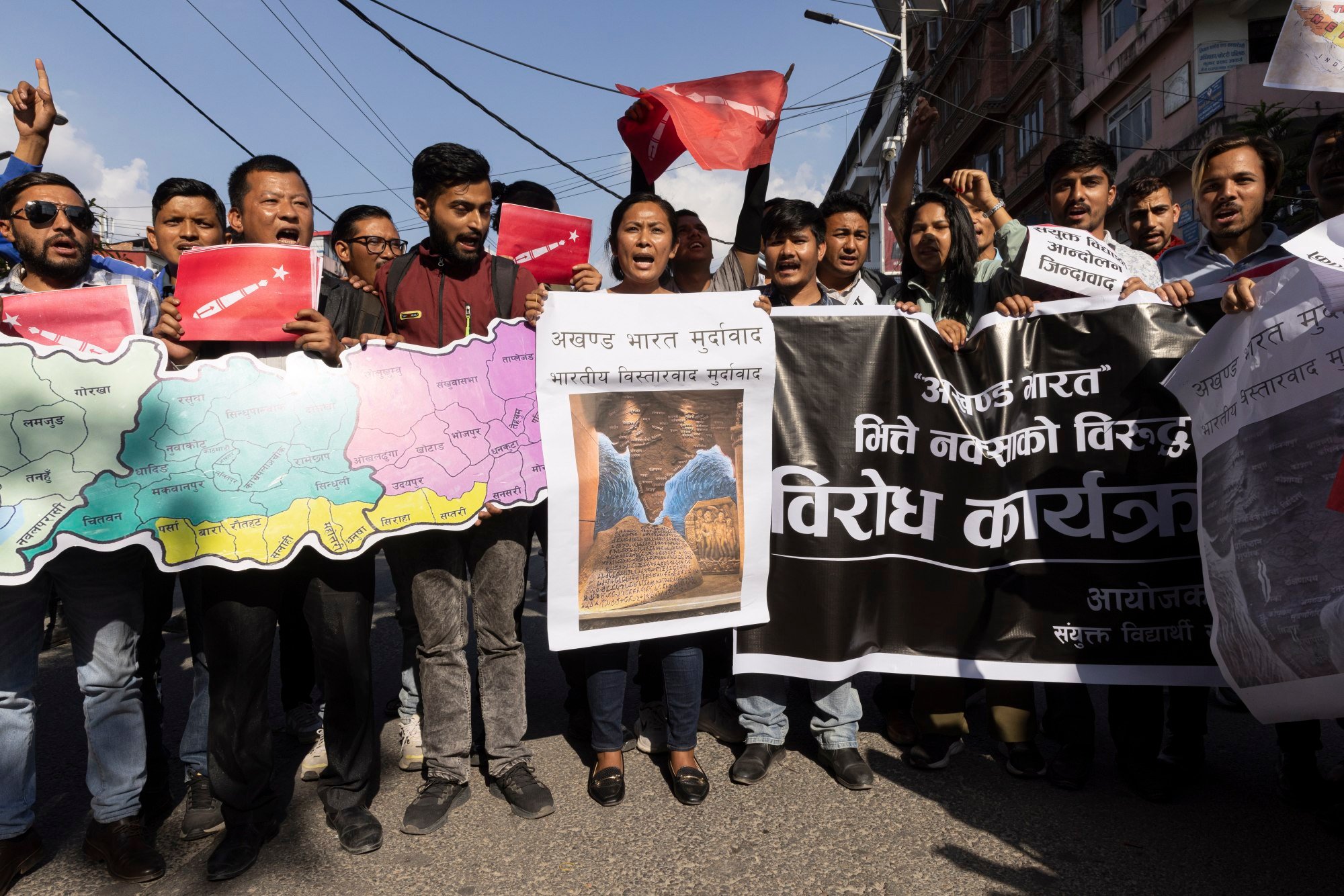 Nepalese protesters shout anti-India slogans during a protest in Kathmandu, Nepal, on May 31, 2023. Photo: EPA-EFE
Strained ties
Dahal's four-day visit came days after a controversial mural in the newly inaugurated Indian parliament building caused outrage in Kathmandu.
The mural, meant to depict ancient India, also includes ancient Nepali towns of historical value, such as Lumbini and Kapilvastu, triggering backlash from Nepali political parties. The row also threatened to reignite the decades-old border dispute.
A spokesman from India's external affairs ministry, however, said Dahal had not raised the mural issue with Modi.
The mural was the latest in a string of incidents that have soured bilateral ties.
In 2015, an undeclared "blockade" backed by Delhi – ostensibly annoyed at not getting its way when the Nepalese constitution was being drafted – left Nepalis struggling for essential items for five months.
In 2020, under former leader Oli, Nepal released new maps claiming contested territories – including the Kalapani area – as its own, drawing India's ire.
India's move to cut down on the service years of Nepali Gurkha soldiers in its army has also raised Kathmandu's ire. Under the Agnipath scheme, introduced in June last year, Gurkhas can now only serve a four-year term in the Indian army when they had historically served for much longer.
Concerns over the Gurkha soldiers' livelihood had led the Nepali government to ask India to stop recruiting Nepali Gurkhas into the Indian army.
India's foreign secretary, Vinay Mohan Kwatra, said the Dahal-Modi talks covered the entire spectrum of bilateral cooperation, including political, economic, trade and development partnership. The Agnipath scheme, he said, was not discussed.
Dahal, long perceived by India as being pro-China, himself has a chequered history of maintaining ties with Delhi. He visited China instead of India for his first foreign trip as prime minister in 2008, breaking an unspoken tradition. In his third tenure as prime minister, Dahal did make Delhi his first port of call, albeit months after assuming office in December last year.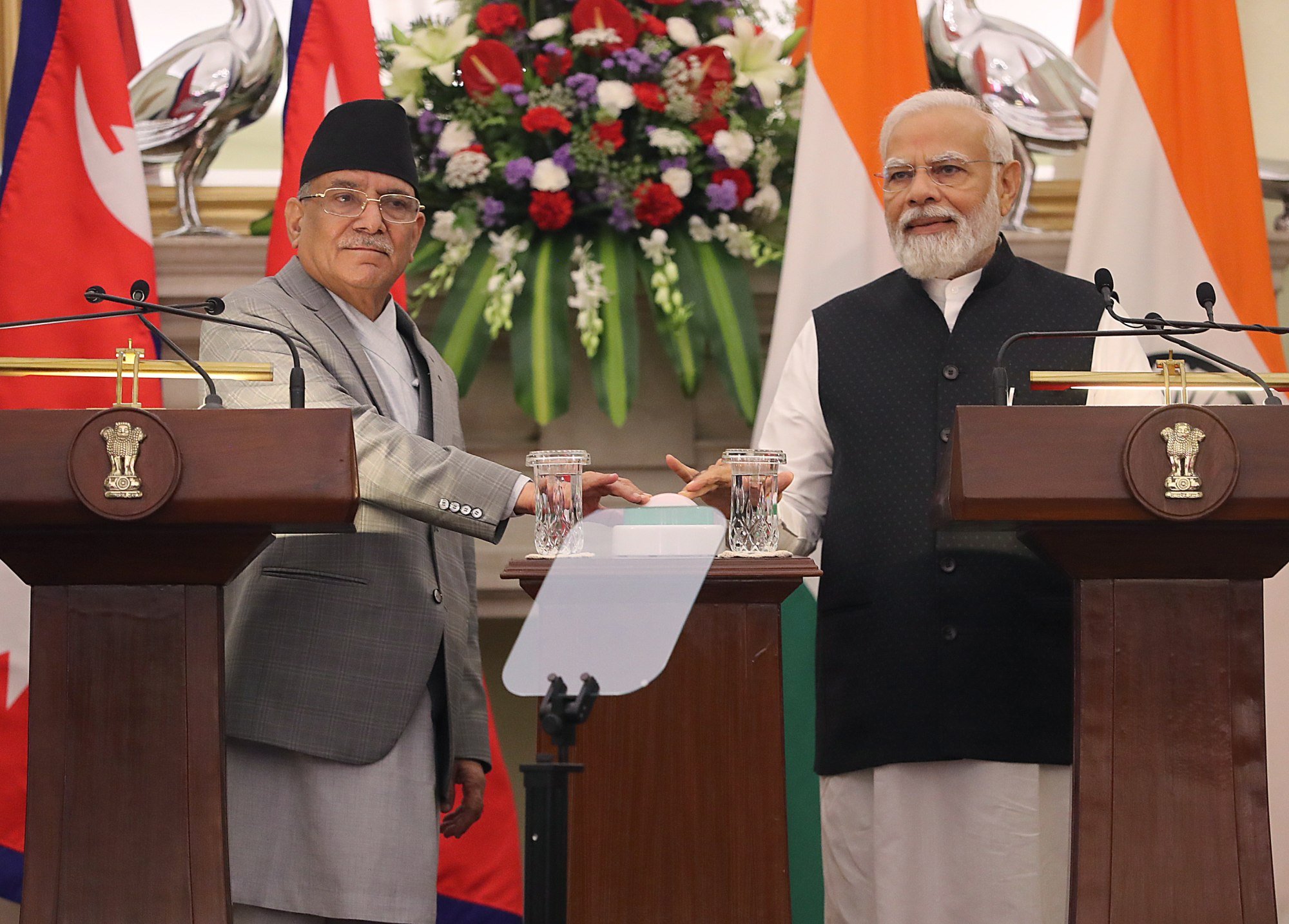 Nepal's Prime Minister Pushpa Kamal Dahal (left) and Indian Prime Minister Narendra Modi (right) press a button to inaugurate the freight rail operation between India and Nepal during their meeting at Hyderabad House, in New Delhi on June 1, 2023. Photo: EPA-EFE
On Thursday, however, both Dahal and Modi talked up the close bilateral relationship at Delhi's Hyderabad House.
Dahal called India a "close neighbour and an important partner", saying bilateral ties were "age-old and multifaceted". Modi repaid the sentiment: "We will continue to strive to take our relationship to Himalayan heights."
On the border dispute, Dahal said he had discussed the issue with Modi on Thursday. "I urge Prime Minister Modi to resolve the boundary matter through the established, bilateral diplomatic mechanism," he said.
Modi, on his part, said India would work to "resolve all issues, including the boundary matter".
Nepal's newest China-built airport opens
The China factor
While China did not feature on the discussion agenda, recent events would have put Delhi on alert.
Dahal's trip came as local reports in Kathmandu claimed that the Nepali army was planning to procure defence equipment, including armoured personnel carriers and rifles, from a Chinese supplier, Norinco.
While the army dismissed the reports, India was certain to have taken note of it.
Delhi is also concerned about a possible move by the Chinese People's Liberation Army to induct Nepali Gurkha soldiers into its ranks, a fallout from the Agnipath scheme.
Last week, during the handover ceremony of a reconstructed hospital built with Chinese assistance in Kathmandu, Dahal hailed Nepal's ties with China, which he said "date back to time immemorial".
Pandey said while Delhi had tried to win Dahal over by offering developmental aid, that might not be enough for the Nepalese back home who were watching this trip closely.
"[Dahal] had raised the expectation of the Nepalese public by saying this would be a 'historic' visit before his departure," Pandey said.
"[The] general public and the intelligentsia over-read this statement and expected more than what has eventually come out."