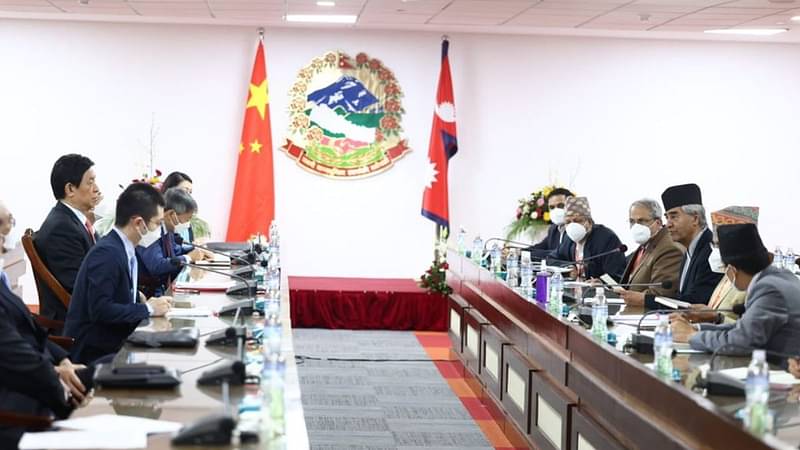 Beijing isn't happy with the performance of its diplomats in Kathmandu after Nepal's parliament ratified the US-led Millennium Challenge Corporation or MCC compact earlier this year on 27 February. But it continues to see an opportunity to keep the Himalayan country on its side.
Li Zhanshu, chairman of the National People's Congress and China's third-ranked leader, arrived in Kathmandu on 12 September to strengthen ties with Nepal and to keep the United States at bay. The trip to Kathmandu—part of Li's four-nation trip—is to ensure Beijing doesn't lose any more 'friends' in the current geopolitical environment and to signal that Zhongnanhai is reinitiating its international diplomacy after Covid-19 kept top politicians at home.
The MCC, a US aid agency, signed a $500 million compact with Nepal to support the country in its developmental goals. Many have dubbed the MCC compact as Washington's hedging strategy against China's increasing aid for Kathmandu.
Li Zhanshu's visit to Kathmandu is part of Beijing's effort to strengthen its social and political currency after the US' comeback in Nepal's politics.
During Li Zhanshu's visit, Nepal and China signed a six-point Memorandum of Understanding (MoU) on inter-parliamentary cooperation, which will facilitate high-level mutual visits by parliamentarians. Both sides agreed to implement connectivity and infrastructure under the Belt and Road Initiative (BRI), including projects that have been pending. In return for Nepal's aspirations to build more BRI projects, Beijing sought Kathmandu's support for its 'one-China' policy.
Though Li's is the most high-profile visit to Kathmandu since President Xi Jinping's State visit in 2019, the former's outreach to Nepal started earlier in the year. On 8 April, Li Zhanshu held talks with Nepal's speaker Agni Prasad Sapkota when the latter invited him to Kathmandu.
During the April talks, Speaker Sapkota asked Li to further promote the trade relationship between Beijing and Kathmandu by expanding the Tatopani and Kerung ports, which act as nodal points of exchange over land between the two countries.
Li's visit comes after Liu Jianchao, the head of the International Liaison Department of the Chinese Communist Party (CCP), visited Kathmandu on 10 July.
The Liaison Department falls under direct control of CCP's Central Committee and conducts political and ideological work on behalf of the party in foreign countries through official and non-official Chinese entities. The Liaison Department aims to ensure that the Communist Party's ideology spreads in foreign countries and its so-called 'enemies' don't unite there. Taiwan is one of the primary targets of the department. Liu's outreach to the Nepal Communist Party and other Left-leaning parties was the central theme of the visit.
Beijing's efforts to bring Kathmandu into its ambit took a setback when the relatively pro-Beijing government of K.P. Sharma Oli collapsed, and Sher Bahadur Dueba managed to form a new one.
"Nepal firmly adheres to the one-China principle and does not allow any external force to use Nepal's territory to engage in anti-China activities," Xinhua quoted Nepali leaders as saying during Liu's visit.
Liu may have achieved another aim during his visit as Nepal backed away from yet another programme the US wanted Kathmandu to sign up for—the State Partnership Program (SPP). The US SPP agreement is a mechanism which allows Washington to provide disaster management support to participating countries by sending US National Guard and military personnel. Instead, Beijing called the agreement "a military and security initiative closely linked to the Indo-Pacific Strategy."
China believes the agreement will allow Washington to establish a military base in its backyard. Washington argues the program has existed for 25 years in over 90 countries and that the agreement isn't a security or military alliance.
"Although the SPP is outwardly peaceful in intent, it has deep-set military objectives with consequences for not only the country's security but also geopolitical situations given the sensitivity of Nepal's geographical location between India and China," wrote journalist Li Yang in an opinion article for China Daily.
Beijing tried to dissuade Nepal by linking the SPP agreement with the US Indo-Pacific Strategy and appealing to Kathmandu politicians to reject the US' sphere of influence.
"Nepal's decision, which throws cold water on the attempt by Washington to drive a wedge between Nepal and China, maybe just the beginning. More countries will give Washington the cold shoulder," Li Yang added in the column.
While Beijing cares about regional geopolitical competition with the US, Nepal wants to expand trade and people-to-people ties with its northern neighbour.
Nepal hopes to boost its economy by seeking further financial support from Beijing to realise the rather difficult engineering task of completing the China-Nepal cross-border railway. But concerns about taking aid assistance from Beijing and falling into a 'debt trap' remain. Nepal's diplomats are trying to allay those concerns.
"All details concerning the railway, including the cost and the financing, will be discussed and negotiated by both sides together based on mutual benefit and sustainability, which does not bring into anything like a debt trap," said Bishnu Pukar Shrestha, Nepal's ambassador to China, in an interview with China Daily.
China may deny the allegations of undercutting India's interests in Nepal by building the China-Nepal cross-border railway, but that's how Chinese experts describe the project.
"If Nepal has this railway linkage, it will reduce its dependence on India," said Lin Minwang, deputy director at the Centre of South Asian Studies at Fudan University.
Beijing also believes that Kathmandu can be swayed from maintaining a distance from the US' Indo-Pacific strategy by deepening relations with Nepali politicians and expanding people-to-people ties.