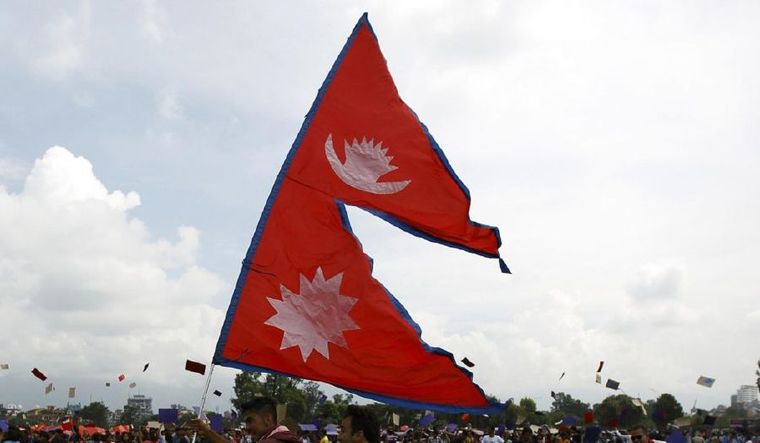 Nepal's foreign minister Narayan Khadka's visit to China, will be closely monitored by Washington and New Delhi
The foreign minister will meet his Chinese counterpart, Wang Yi, in Wingdao. He and his 11-member delegation are on a three-day visit.
Nepal, under Sher Bahadur Deuba, is playing it safe. Unlike K P Sharma Oli, whose pro-China tilt was loud, and who loved riling India, Deuba has conducted his diplomacy with regard to his two neighbours in the traditional manner. After assuming charge last year, he made his first international trip to India this April, with a visit to the holy city of Kashi added to the itinerary.India's neighbours, Bangladesh, Bhutan, Sri Lanka, Nepal and Maldives, after a new leader is elected, make their first visit to New Delhi.
However, with two Asian giants in their neighbourhood, these nations have to balance their acts, and always reassure each of their neutrality. In India's case, they also have to reassure that they will not let their territory be used against India. Sri Lanka, a few days ago, made that assurance, when it asked China to defer the arrival of a survey vessel to Hambantota after India objected.
Since Deuba took over, no Nepal minister has yet visited Beijing, though Chinese foreign minister Wang Yi visited Kathmandu.
Khadka's visit may be routine, but it is significant, given the evolving dynamics of the region.
Kathmandu supports One China and has made its opinion on Taiwan clear. In return, China also supports Nepal's sovereignty. This can create trouble for India as there is a disputed land border between India and Nepal. Nepal recently changed its flag and constitution to include territory which India considers its own.
Kathmandu has immense development needs, and moneybags China already has big investments in the Himalayan nation. With rising Chinese debt becoming an economic issue in Sri Lanka and Pakistan, Kathmandu should be wary of Chinese offers. However, it cannot totally turn them down. Will there be progress on the rail link from China to Kathmandu? India has already inaugurated rail links to Nepal along the Terai.
India's new Agniveer policy will dry up a decent source of income for Nepal in the form of pensions to retired army men who served in the Indian military. Nepal will therefore be more open to overtures from the Chinese end, too.
From the Indian side, any visit between Beijing and Kathmandu always needs to be watched carefully. This time, Washington too will be watching, as the visit comes soon after Nancy Pelosi's visit to Taiwan, which had got China's feathers ruffled. Washington is not pleased with Khadka's visit even though it was planned much ahead of the Pelosi trip.
India's ties with Nepal are good, but in recent years, there have been fractures. Nepal is one of India's biggest diplomatic priorities.